11-13-2019, 02:38 PM
Senior Member

Join Date: Dec 2014

Posts: 25,623
Adobe Illustrator 2020 (v24.0) Multilingual by m0nkrus
---
Adobe Illustrator 2020 (v24.0) Multilingual by m0nkrus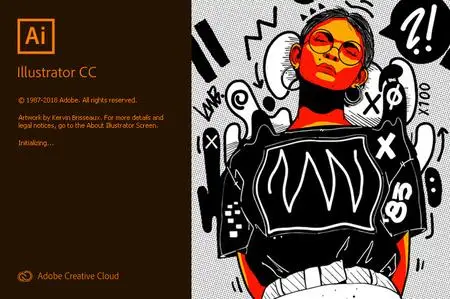 Adobe Illustrator 2020 (v24.0) Multilingual by m0nkrus
Platform : Windows x64 | Size : 1.91GB
Interface language : English / Hungarian / Dutch / Danish / Spanish / Italian / Chinese (simplified) / Chinese (traditional) / Korean / German Polish / Portuguese (Brazil) / Russian / Turkish / Ukrainian / French / Czech / Swedish / Japanese / English (United Kingdom) / Arabic Arabic / English Hebrew / Spanish (Mexico) / French (Morocco) / French
The state of the art of illustration. The industry-standard vector graphics app lets you create logos, icons, drawings, typography, and illustrations for print, web, video, and mobile. Millions of designers and artists use Illustrator to create everything from web icons and product packaging to book illustrations and billboards.
Iconic work at any size.
Get all the drawing tools you need to turn simple shapes and colors into sophisticated logos, icons, and graphics. Illustrator artwork is vector-based, so it can scale down for mobile screens and up to billboard size - and always look crisp and beautiful.
Gorgeous typography that says it all.
Incorporate a company name into a logo, create a flyer, or mock up a website design with the best type tools out there. Add effects, manage styles, and edit individual characters to create typographic designs that perfectly express your messages.
Draw attention everywhere.
Create freehand drawings, or trace and re-color imported photos to turn them into works of art. Use your illustrations anywhere, including printed pieces, presentations, websites, blogs, and social media.
Fast asset export for screens
Select assets from your artboards and export them to multiple sizes, resolutions, and formats with one click.
Puppet Warp
Modify a graphic naturally, without having to adjust individual paths or anchor points.
SVG Color Fonts
Design with SVG OpenType fonts that include multiple colors, gradients, and transparencies.
Artboard enhancements
Create up to a thousand artboards on your canvas, and select multiple artboards at one time to move, resize, and more.
Processor - Multicore Intel processor (with 32/64-bit support) or AMD Athlon 64 processor
Operating system - Microsoft Windows 7 with Service Pack 1, Windows 10*
RAM - 2 GB of RAM (4 GB recommended) for 32 bit; 4 GB of RAM (16 GB recommended) for 64 bit
Hard disk - 2 GB of available hard-disk space for installation; additional free space required during installation; SSD recommended
Monitor resolution - 1024 x 768 display (1920 x 1080 recommended)
To use Touch workspace in Illustrator, you must have a touch-screen-enabled tablet/monitor running Windows 10 (Microsoft Surface Pro 3 recommended).
GPU - OpenGL 4.x
Optional: To use GPU Performance: Your Windows should have a minimum of 1GB of VRAM (4 GB recommended), and your computer must support OpenGL version 4.0 or greater.
List of Changes
What is changed by the author of the assembly:
- To make it possible to install the program not only on Windows 10, the installer version has been reduced to 4.9.0.515.
- From the installer, with the exception of the required minimum, the Adobe Application Manager module was cut, which is installed by the original installer without fail.
- From the installer, with the exception of the required minimum, the Adobe Desktop Common module is cut, which is installed by the original installer without fail.
- The Adobe Creative Cloud module, completely installed by the original installer without fail, is completely cut out from the installer.
- The installer offline integrates into Windows 7 a certificate confirming Adobe's modern electronic signature.
- The installer provides a choice of installation path and interface language of the program, as well as the ability to run the program immediately after installation.
- Unlocked the ability to install the program on Windows 8.x and Windows 10 minor versions.
- The Adobe CCX Process module is specially patched so that a message about the end of the trial period is not displayed on the program authorized with Adobe ID.
- The program has already been treated. The start window (initial screen) works. You can use the libraries.
FAQ
Question: How will the program work on officially unsupported operating systems?
Answer: I unlocked the installation of the program on Windows 8.x and Windows 10 minor versions. How the program will work for them, I do not know. Those who actively use the program, please unsubscribe in the comments on the release. If any bugs are noticed when working on old OSs, in the next version of the assembly I will block their support. I especially want to note that the inclusionof support for old OSs does not affect the work in officially supported operating systems. Question: Is there a version of this version of the program that runs on 32-bit OS? Answer:
Alas, the 32-bit version of Illustrator in the 2020 line is missing. It remains to be satisfied with the 32-bit version of Illustrator 2019. Question: During the installation process, when I click the Continue button, nothing happens to me. How to be Answer: For the installer to work, Internet Explorer version 11 is required. Install or update this product to bring the system into compliance with the requirements of the installer. Question: I can't click the Continue button, because the contents of the window cannot fit in the window itself and the button is out of sight. What to do? Answer: This happens occasionally on crooked OS. There is a TAB key on the keyboard. Click it to the desired menu item. Question:
I have a plug at the initial stage of installation, not described above. Can you tell me something?
Answer: Try replacing the Set-up.exe file used in the distribution package with the one downloaded from here . Question: Installation was not completed due to an incomprehensible error. What to do? Answer: Read the error code decryption . Also, I recommend to study the installation log. It is located in the C: \ Program Files (x86) \ Common Files \ Adobe \ Installers folder. Perhaps here you will receive more detailed information about the problem and how to resolve it. Question: What needs to be done to make it possible to work with libraries? Answer:
To do this, connect to the Adobe server with your ID by selecting Help-> Sign In from the program menu and logging in. After restarting the program, the library panel will work. Question: What is the medicine for this version of the program? Answer: A patched Illustrator.exe file was released using the uncia hacker method. The cured file is built into the installer by me, so you do not need to do anything special for treatment. Just in case, the original file is saved as Illustrator.exe.bak. To restore the original file, remove the .bak extension from it and replace the existing patched file with it. Question: When a program is uninstalled by a standard uninstaller, the progress of removal reaches 100% and everything freezes on this. How to be
Answer: In some cases, this really happens. This is a small uninstaller glitch that developers can't fix in any way. If you encounter this, then start the Windows Task Manager and interrupt the two processes with the name Set-up.exe. Do not worry, the removal at that time will be completely completed.
Image Size and CRC
Image size: 1.90 GB (2,048,468,992bytes)
MD5 image sum: d9ae074e9a92da0b86d0971a8b49a999
SHA1 image sum: ac5abfcefdd0507fcada7fd6ff036474c6abd726
DOWNLOAD LINKS :
Code:
https://uploadgig.com/file/download/d488D2f80390db19/Illustrator.2020.part1.rar
https://uploadgig.com/file/download/e92c838ffc7c0ef9/Illustrator.2020.part2.rar

https://nitroflare.com/view/D3FBE91B30D4996/Illustrator.2020.part1.rar
https://nitroflare.com/view/0A896831C658EFB/Illustrator.2020.part2.rar

http://uploaded.net/file/dgxw0fvo/Illustrator.2020.part1.rar
http://uploaded.net/file/wd3w1i2u/Illustrator.2020.part2.rar
Posting Rules

You may not post new threads

You may not post replies

You may not post attachments

You may not edit your posts

---

HTML code is Off

---
All times are GMT. The time now is
04:10 PM
.
Copyright ©2014, PowerShare.